Yahoo! Messenger For iPhone Makes Way For Free Text Messaging!
|
Yahoo! Messenger came out with their brand-carrying app for iPhone or iPod Touch on iTunes Apple App Store. This one's of course a dedicated Yahoo IM app unlike the Yahoo oneConnect that converges IM, text, email and social networking in one app and in contrast with the popular eBuddy Multi Mobile Messenger, in which you can use the different IM clients simultaneously.
It allows you to IM your friends, know their online status or let them see if you're available, busy or play invisible. You can upload and share links and photos and you can easily choose emoticons, too.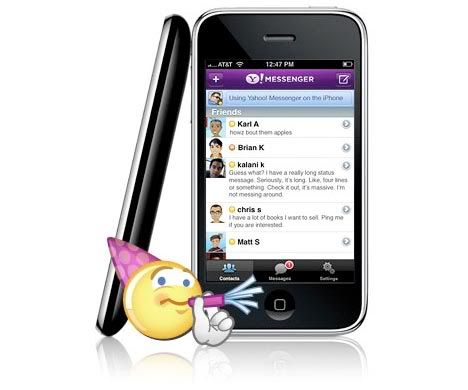 Another good feature about it is it allows you to simply toggle the IM to SMS button to send free text messages to your friend's mobile phone number if they are not online. Replies come back to your YM app and you can even opt to see your recent conversations.
In case that your iPhone goes to sleep mode, or you hover over to other iPhone applications, or just answer a phone call, it'll keep you signed-in and your YM status automatically shows you're on an 'idle' mode. You can sign-out completely, though. Just tap the sign-out button on it's setting.
The free voice calls on Yahoo! Messenger is still for PC-to-PC only. You can try Skype on your iPhone through their newly launched client or through a third-party app over WiFi, though. Check out this video for more details from YM.