Sun Cellular Bundles Postpaid Plan and Unlimited Wireless Broadband for Only P999
|
I actually happen to bump on a friend using his Sun Cellular Wireless Broadband and curiously asked how much does he shell out for those. Interestingly, he just spends P999 monthly, taking a good note that it includes (not an additional expense) a P350 call and text unlimited Sun-to-Sun postpaid plan and of course their usual free phone.  Not to mention their wireless broadband is unlimited, registered 7.2Mbps on internet connection status on Windows (somewhat increased from claimed "up to" 2Mbps?) high-speed online access with their USB modem given to you for free (yes, it's waived meaning no upfront payment).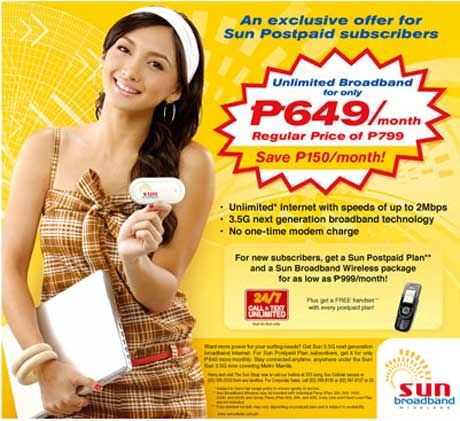 When he said that's how good the price he's having those, I helped my self to try some speed test at the least. He's using it on an Asus Atom-powered netbook, an EePC with 1G memory. It registered 387kbps down and 187kbps up on speedtest.net. Tried to download "Twilight" torrent and down speed registers 1.5kbps. He tried downloading it again a couple of blocks away and he got 70kbps download speed on the torrent.
That's pretty varied, you can mention it again that it's Sun Cellular even when it was first launched. However, for mobility purposes of browsing the web, checking your emails at least within Metro Manila, this one cuts it out among the rest economically, for the mean time. Data handling, file sharing, video streaming and media downloads can be worked out with some geographical mapping on your end.
By the way, if you don't want the Sun Cellular postpaid plan either you already have one or you don't have so much friends using Sun mobile network, you can opt to have the unlimited wireless broadband for P799. So technically, you save P150 if you choose to bundle it with 'any' of their postpaid plan.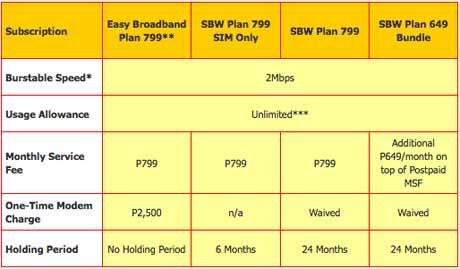 You can check it out and visit The Sun Shops in Metro Manila. Call their hotline at 333 using your Sun Cellular Service or (02) 395-3333 using a landline for more infos.
If you have one already, drop some feedbacks for add on details and tweaks. Cheers! 😉