Skype Calls Over WIFI With Your iPhone
If you happen to have an iPhone or an iPod Touch, and find your self in a wifi hotspot, you can finally make Skype calls using Fring. It's a free third-party solution that you can download from Apple's App Store.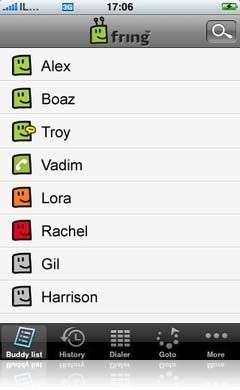 The cool part is that it will bring all your instant messaging and chatting buddies from Skype, MSN Messenger, Google Talk, ICQ, Twitter, Yahoo and AIM in one searchable contact list. That makes it quick to see who's available and through what channel you can connect to any of them.
Aside from Fring, you can also use IM+ for Skype on a one time pay unlimited usage or a monthly subscription with a free 10-day trial. Skype still don't have any updates about any release of a Skype client for iPhone, though Skype CEO Josh Silverman already said in an interview, just "stay tuned."