Kickstarter: Helps You Get Your Creativity Funded Through Pledges
|
Have you ever had an idea, a story, characters in drawing, a film to make or anything that you wish you can immortalize or dawn it to a reality? And the only thing that stops you from getting your somehow elusive dream is money? Well, Kickstarter may help you to start your kind of ride.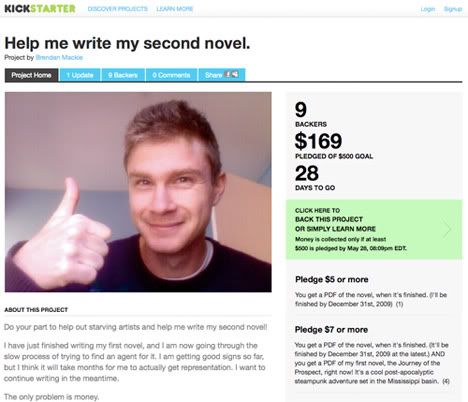 Kickstarter has recently launched by five guys namely Perry Chen and Yancey Strickler from Brooklyn, NY; Charles Adler from Wilmette, IL; Carson Baker from Houston, TX and Lance Ivy from Walla Walla, WA. It's just cool to have a platform to engage creative people like artists, musicians, filmmakers, writers and designers to finally have its chance to meet with financers.
There are just some guidelines to follow. We think it's fair and simple, too. One, the creator sets his funds goal and the target date to start their project. They give descriptions, helpful information and updates regarding their intended project or creation.
Two, the creator retains full ownership and control. Your finances go in as pledges and not as investments that you can expect ROI (return on investments). Instead, the creator or artist gives you back rewards like giving you a copy of the finished work or even credits or treats, whichever they decide they want to reward you of.
Three, it's up to you to check out if they're legit, maybe through a friend or a video appearance or any signs of being authentic. Kickstarter remains just an avenue for the transaction.
Four, pledges come in as an all or nothing. When the target fund is met on the deadline, all who pledged would be charged at the same time. If the target pledge wasn't raised on the deadline, then no transactions will take place as if nothing happened.
As of now, their service is still invitational. Though you can still sign-in and wait for updates from. You can check out their video at Kickstarter.