Google Earth Free On Your iPhone Now!
Google Earth has just been released for free for iPhone and iPod Touch users. It's as simple as downloading it from Apple's App Store and you can start hovering over whichever part of Earth just with a sway of your fingers.

It's made available in 18 languages and 22 countries for now. Quite entertaining and brings out the explorer in you where you can begin at tapping with your present location at the left bottom corner button. It's like experiencing a free-fall from the outer space breaking into the atmosphere and then zooming right down to your very location.
Google actually call the explore-mode experience 'immersive 3D,' where it lets you even hover from plains to mountains as you tilt your iPhone or iPod. You can quickly pass across continents by just panning with your finger. Zooming in and out of a territory by doing a pinch gesture. They have over eight million Panoramio photos of places and landmarks all over the World either for your guided tour or your geo-viewing pleasure.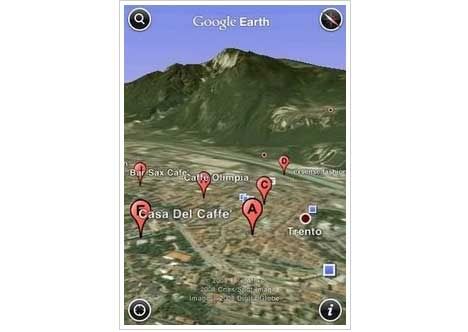 And of course, there is a search option for you to find business establishments, like restaurants, hotels, cafes, malls or even towns and cities itself. Wikipedia on certain places and events is even an added option on search so you can know accurately and informatively about your whereabouts.