Globe Defies Limits With Their Globe Broadband Tattoo
|
Globe recently changed their Globe Visibility to Globe Broadband Tattoo and tries to break away from the mold. With its new skin that makes you feel cool and trendy, you won't find yourself like just someone who promotes a brand.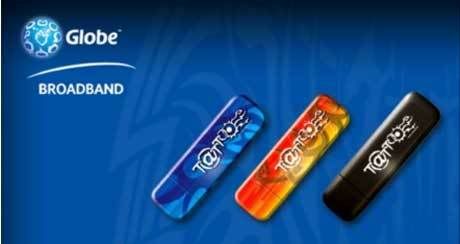 Besides the funkier look, you can have the most of its functionality by noting at least four (4) of its features. Mainly, it's a USB stick that works as your wireless modem using the 3G and High-Speed Downlink Packet Access (HSDPA) technology, which gives you high-speed internet or online browsing and downloads of up to 2Mbps.
Second feature, it can also work as a regular USB because it comes with a built-in Micro SD card expansion slot for your additional file storage. You can actually put your mobile phones' Micro SD card, which means interchangeable pictures, mp3 or video clips in between your phone and laptop.
Thirdly, your USB stick is enabled by a SIM card, which practically works like an ordinary Globe Prepaid Mobile SIM allowing you to call and send text messages at regular rates. This means swappable connectivity and functionality again for your mobile phone and laptop.
On the fourth note, it's a wireless modem broadband prepaid kit priced at P1895 one time payment and it comes with a free P100 load or five (5) hours of free Internet time. You pay P5 per 15 minutes, meaning you can check your emails and browse the Internet for 5mins but pay the minimum of P5 or download for an hour and pay P20. To continue usage you just have to reload by buying Globe prepaid loads (Globe Autoloads, Share-A-Load, Globe prepaid cards). You can also choose to get it postpaid for as low as P799/month with 60 hours free per month.