Bluetooth 3.0 + HS Officially Blasts Off Faster Via WiFi
|
Bluetooth Special Interest Group (SIG) unveils Bluetooth Core Specification Version 3.0 + High Speed (HS) or Bluetooth 3.0 on its annual All Hands Meeting in Tokyo just this week.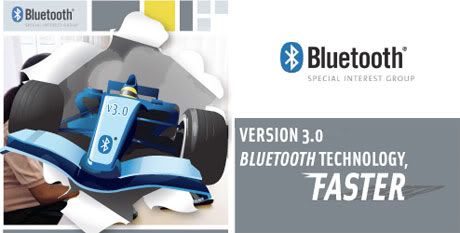 Bluetooth has gained popularity, acceptance and a global standard in terms of short-ranged wireless connectivity between cellphones, digital cameras, computers and other Bluetooth-equipped consumer electronics, home entertainment devices and peripherals. With this leap from Bluetooth 2.1 to Bluetooth 3.0, it will give that convenience of connectivity at a faster speed.
Version 3.0 basically utilizes 802.11 radio protocol to gain higher bandwidth and speed up bulk data, large video, music and photo library transfers at about 24Mbps. Both Bluetooth and WiFi are existing radios in most devices that it'll provide efficiency in their current utilization. Not to mention, it has enhanced power control that it automatically turns on and off WiFi utility during transfers that saves you power consumption.
Regarding Bluetooth 2.1 possible firmware upgrade to v3.0 would actually depend upon the product support itself, that is if the portable devices' manufacturers would provide one. With computers it'll have more possibility to have a work-around, given 802.11 is present with it, too. Bluetooth 3.0 is capable of backward compatibility, though.
What's in store right now after this wireless evolution and adaptation is to get these specifications and silicon solutions to the device manufacturers. The hand down of the technology and its inclusion in the end products is expected to flood the market in 9 to 12 months time.