BlackBerry: Hailing iPhone by Storm
|
BlackBerry hailed their first touchscreen smartphone called the "Storm." It seems everyone's getting its game plan aligned before the buying seasons' finally arrive. Nokia just launched its 5800 Xpressmusic with the "Comes with Music" free 1-year music downloads offer debut. And iPhone gets to have more competitors on the touchscreen category.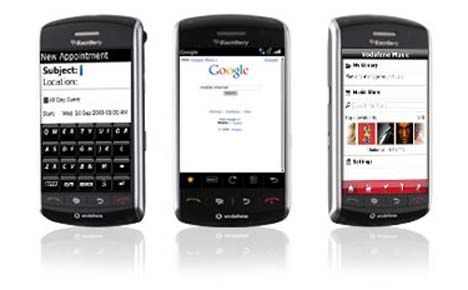 Research In Motion (RIM) actually prefers to innovate further the touchscreen to a ClickThrough experience than just to imitate it as a flat piece of glass. What RIM did is have a multi-touch navigation for browsing, panning, zooming and added a whole new keypad-like feel when pressing the screen for execution and typing. In a landscape mode, you type on through a QWERTY display and a two-letter BlackBerry buttons in portrait mode. They've put on a crisp 3.25" screen at 480X360 resolution 184ppi with a 3.2 megapixel auto focus camera. It also comes with GPS, Bluetooth stereo, a 3.5mm jack, 1 GB of onboard memory storage and 8GB microSD card with an expansion card slot supporting up to 16 GB.
It has worldwide roaming capabilities featuring EV-DO Rev. A, quadband GSM and HSPA for Europe, though it doesn't have wifi. Verizon Wireless and Vodafone will be the initial carriers by next month of November.
It was leaked that RIM would be launching an App Store coming with the Storm. That'll keep them up with Apple's App Store, though regarding music downloads, they'll ride instead with their upcoming BlackBerry Media Sync for Mac.